Fossil Hunting

Tuesday, 1st October 2002, North Yorkshire




Rocks | History | Workshop | Links | Home Page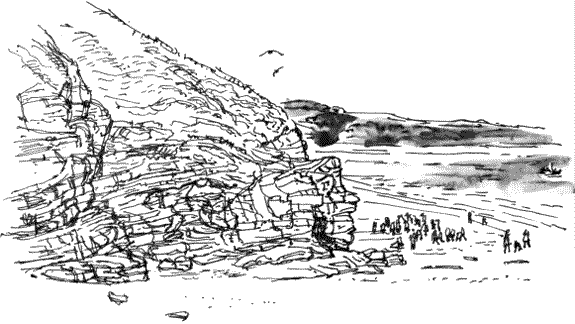 We arrive at Whitby at 7.30 a.m. The fishermen are unloading their catches at the fish wharf, the farmers setting up their stalls under the market cross. The cobbles of Church Street, where we'd normally be weaving through the crowds, are all but deserted.

It feels as if there's a big gap in the harbour where the Endeavour was anchored in the summer.


Turnstones in Town

On the pavement next to the dock I'm amazed to see a turnstone trotting about and probing the ground with its beak, behaving as it would on the beach but in a place where you'd expect to see a town pigeon. It seems entirely unconcerned about us standing there watching it just 8 feet away. Another is searching the cobbles nearby. Like pigeons, they are pecking at scraps of food too tiny for me to see but I suspect that here these are more likely to be scraps dropped by tourists than natural food.

It would be wonderful if turnstones became the next species to move into our cities!


Robin Hood's Bay

There's a gaggle of turnstones at Robin Hood's Bay but they're trotting about at the edge of surf on a beach with a couple of redshanks.


Devil's Toenails

We're here to do a bit of fossil hunting for a Robin Hood's Bay edition of Open Country. Barbara searches the strandline while Helen Mark (the presenter) and I take a look at a bed of boulder clay at the top of the beach. We find two bullet-shaped belemnites, the equivalent of the cuttlefish 'bone' in an ancient squidlike creature, a fragment of a Gryphaea shell; a type of fossil oyster fancifully called a 'Devil's Toenail' and, surprisingly, only one very worn fragment of what could have been an ammonite shell.


Snakestones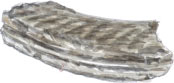 The ammonite fossil (right) came from the boulder clay between Whitby and Sandsend. When I saw it sticking out of the cliff I half expected that it would be a man-made object such a Frisbee hurled with great force into the clay.



Those three ridges running along the outer edge of its shell and the sickle-shaped ribs on the sides identify this particular ammonite as Hildoceros. It was named in honour of St Hilda, Abbess of Whitby, who, according to legend, rounded up the serpents that swarmed over the site of her Abbey and hurled them over the clifftop. As they fell the serpents coiled up and petrified to become 'snakestones'. Catering for the medieval souvenir trade, local people carved heads on the ammonites to improve the likeness to a snake. Three Hildoceros ammonites are featured on the coat of arms of the town of Whitby.




At Robin Hood's Bay you're more likely to come across the ammonite Dactylioceras. The 'dactyl' in its name comes from those branching ribs. Dactyl is Greek for a finger and, in English, it can mean the end of a jointed claw or a rhythmn in poetry of one long syllable followed by two short syllables.

Ammonite shells have been tested in flow tanks. As you might expect with all those ribs Dactylioceras was a slow swimmer.



Thunderbolts
Just one more fossil folktale; belemnites, those skeletons of the ancient squid, which resemble bullets or marker pens, were said to be thunderbolts.

Related Links
A summer walk from Whitby to Robin Hood's Bay from my nature diary.

Sheffield Dinosaur Track Research Group

Dinosaur Coast Project

Books
My book Yorkshire Rock, a sort of comic-strip format journey through time, includes the fossil folktale drawings (copyright NERC) featured on this page (British Geological Survey, 1996).

The Eyewitness Handbooks Fossils, by Cyril Walker and David Ward (Dorling Kindersley, 1992)

The Dinosaur Coast, by Roger Osborne and Alistair Bowden (Yorkshire Dinosaur Project, 2001)



Richard Bell,
wildlife illustrator
E-mail; 'richard@willowisland.co.uk'

Next page | Previous page | This day last year | Nature Diary | Home Page