Stringy Runners
Tuesday, 14th October 2003, page 1 of 2
Richard Bell's Wild West Yorkshire nature diary


Previous Page | This Month | Home Page | Next Page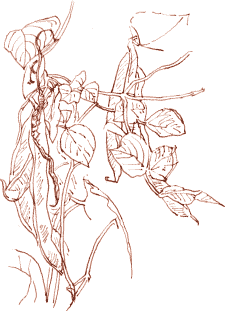 I wouldn't want to try these runner beans as I guess that by now they've gone stringy but it's worth leaving them on the plant to harvest for sowing next year's crop.
I decided to take my own advice today: when you're feeling troubled, draw beans!
I hadn't realised that it was such a perfect day for drawing: sunny, warm and with a light breeze to keep it feeling fresh.

As I wrote that last line in my notebook a comma (right) flew past and settled briefly on the leeks. Later in the day, on a sheltered south-facing bank of the canal, a small copper settled in the grasses.



richard@willowisland.co.uk


Previous Page | This Month | This day last year | Home Page | Next Page