From Bank Wood to Bower Hill
Monday, 17th November 2003
Richard Bell's Wild West Yorkshire nature diary


Previous Page | This Month | Home Page | Next Page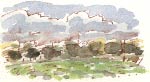 Rainy but mild: the mud of a field of rape seedlings sticks to our boots like play-dough but we get a chance to walk it off in the on a carpet of autumn leaves in Bank Wood and later on pine and larch needles in Bower Hill Plantation, near West Bretton.


Rhododendron glistens after the rain like the undergrowth in a tropical forest. Under the larches the ochre needles have stuck to its wet leaves giving them a loosely thatched covering.
Coral Spot


A pile of logs at the crossroads of tracks at Wilderness Plantation is peppered with the fruiting bodies of coral spot fungus. The shady side of the pile has so much of the fungus showing that it looks as if it's been sprayed with red powdery paint.



richard@willowisland.co.uk


Previous Page | This Month | This day last year | Home Page | Next Page