Color Brush Trees
Christmas Day, 25th December 2003, page 1 of 2
Richard Bell's Wild West Yorkshire nature diary


Previous Page | This Month | Home Page | Next Page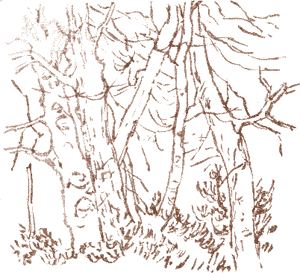 After present-opening and before our Christmas dinner how can I resist sketching the trees of the shrubbery seen from the bay window of my brother-in-law's Victorian house?
A tall beech and a couple of sycamores are amongst the trees that grow with an understorey of evergreen hollies and variegated laurels.
Helen and John, a couple of artist friends, have tracked down - and given me as a Christmas gift (thanks!) - this Pentel Color Brush, intended for designing and sketching, which is available with sepia ink cartridges. As with the waterbrush which I recently started using, squeezing the body of the pen controls the flow of ink and you can use a tissue to remove excess ink from the brush.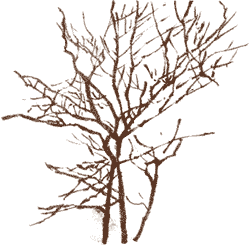 Three things to be aware of:
the ink doesn't dry instantly so you need to be careful not to smudge what you've just drawn (as I did on this drawing of the bare branches of a Turkey oak, right).

The ink tends to come through the page a little; at least it does on the cartridge paper I'm using.

Pentel warn that colours may fade when exposed to daylight or artificial light for long periods.
None of which should be a problem for sketchbook or illustration work.



Previous Page | This Month | Christmas 2000 | Home Page | Next Page