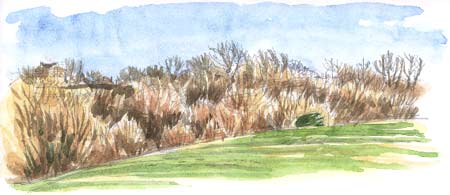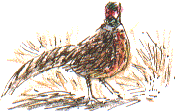 A half moon, a waxing moon, rises high above the quarry end of Coxley Wood as the sun dips towards the horizon around 4 o'clock. For a while the bare branches glow reddish gold until the shadow of the nearby houses plunges them into dull brown shade. A small flock of wooly cumulus materialises and takes on the pinky-gold glow as the woodland starts to glower darkly.
A few wood pigeons wheel over the trees, blue tits perch in the top branches of a willow and a pheasant, a ring-necked male, struts around by the old stable.

The meadow isn't a mass of mud in the bottom corner as it was last year when the two ponies were kept here, but I do miss them. They brought the place to life.