A Slow Start to Spring

Thursday, 3rd April 2003, West Yorkshire




Rocks | History | Workshop | Links | Home Page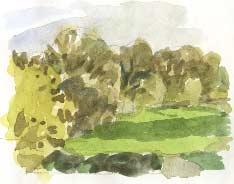 The blackthorn, the group of bushes behind next door's weeping willow on the left of my sketch, is just starting to come into white blossom. Down in this north-facing hollow it's a bit behind the blackthorn growing in sunnier situations in local hedgerows.
The ashes and oaks in the wood are still bare of leaves but the hawthorns and crack willows are now introducing a powdering of bright green amongst the greenish-brown dullness of wintry twigs and tree trunks.
Watercolours or Windows?

This 15 minute sketch (above) is as much as I settle to do today. I delivered a freelance illustration job on Monday so theoretically I'm free for a while to paint and draw but whenever I come to a period of fresh opportunity for creative work I invariably find myself catching up on some of the innumerable odd-jobs that have accumulated while I was working on the last commission.
Instead of setting out with sketchbook and watercolours I find myself sorting through piles of papers or polishing my desk, as if I have to create a kind of calm around me before I set off on my next piece of work.
But it occurs to me that you never read in accounts of Michaelangelo 'this period of the artist's life is remarkable because he redecorated the spare bedroom, got his accounts up to date and finally acheived his ambition of cleaning the studio window.'



richard@willowisland.co.uk

Next page | Previous page | This day last year | This month | Nature Diary | Home Page