Blossom in Bud

Friday, 4th April 2003, West Yorkshire




Rocks | History | Workshop | Links | Home Page



Gorse is in flower on Storrs Hill, Ossett, where the road has been closed for engineering work for the last seven weeks. I'm sorry to see the traditional drystone walls going but, to be honest, they weren't up to the job of terracing the hill and the new structural walls are faced with sandstone blocks, so they're still in keeping with the landscape. Gorse grows on sandy acid soils, such as here on the hill which is an outcrop of sandstone.

On the bare earth by the side of a rutted lane the spore-producing heads of horsetail are beginning to show. It's a prehistoric landscape in miniature.


The blossoms of ash (right) and hawthorn (far right) are still at the budding stage.
Cobbles in the Stream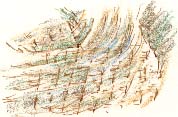 I'm surprised how clear the stream is looking. It's running fairly low at the moment and I can clearly see cobbles on the stream bed when I look down at it, from a height of 10 or 15 feet, over the wall by the traffic lights. It looks like the surface of a cobbled road but of course it could never have been that: the stream enters a low stone arch here which takes it under the canal to its outlet into the river. This stretch of the canal, part of the 18th century Calder and Hebble Navigation, was opened in 1838 so I guess that the cobbles date from that time.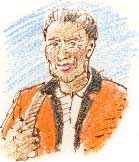 I'm leaning on the wall enjoying the sunshine, watching the clear waters flow by and vaguely trying to puzzle out how this channel might have related to the watermill that occupied the site when suddenly I'm roused from my reverie by a voice in my right ear:
'Have you seen any trout? There's a pool behind there and it used to be full of them. They were in the beck all the way down from Thornhill, under the arches there. A friend of mine used to tickle them!'

I tell him that I also had a friend who'd catch trout by tickling them and that, according to some lads that I've spoken to, there are still some in the beck. There are certainly plenty of bullheads - a smaller stubby fish also known, appropriately for this stretch of the beck, as the miller's thumb.



richard@willowisland.co.uk

Next page | Previous page | This day last year | This month | Nature Diary | Home Page