Felix and George

Saturday, 5th April 2003, West Yorkshire




Rocks | History | Workshop | Links | Home Page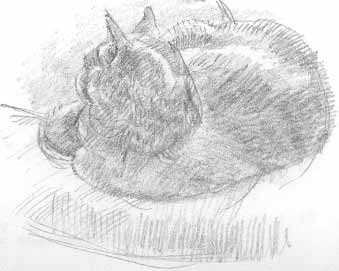 It's one of those days when I don't get the chance of any drawing from nature or even a walk outside for that matter, instead, this afternoon my brother-in-law Dave does a lot of sorting out of mysterious things that aren't quite working on the computer. While we're pondering over the latest setback I watch Felix, a British Blue, walk down the driveway opposite, giving the gatepost a proprietary sniff, pausing to look disdainfully to the left and the right before ambling across the road.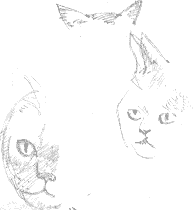 These sketches of Felix were made in July 1993. He was already two years old then, so he's quite an old cat these days, but he still walks about with that regal air.
At that time I spent three weeks doing nothing else but draw cats for Ways of Drawing Cats for the Running Press of Philadelphia. As you can see from these sketches of Felix, cats aren't the most cooperative models and these sketches in 2B pencil didn't make it into the final book.

Drawn by George

Barbara and I are off to a family gathering in the evening; a 60th birthday party for our sister-in-law Margaret. As a young child, Damian, the seventh of John and Margaret's nine children used to keep me busy with requests to draw various subjects, especially Dr Who, when I first visited the family with Barbara over twenty years ago.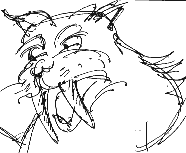 Damian kept his early fascination with art and has recently qualified as an architect. He has compiled a This is Your Life book, which is a work of art in itself, for his Mum's birthday.
It's now the next generation that keep asking me to draw things, especially my great-nephew George, aged six (who you wouldn't recognise from my sketch, scribbled in the bustle of the party).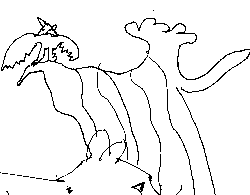 Today's requests are for a jaguar, an alien and a caveman with a sabre-toothed tiger. I'm pleased to see an interest in art, wildlife and the secrets of the universe in the next generation. George adds the spots to the jaguar I've drawn and when I suggest that he might add a fruit bat in the background he just gets on with it, no excuses such as 'what's that like? - I can't draw those.'
I remember how absorbed I became in creating the world's I drew, even when I was George's age, and I'm interested to see how he constructs his drawing. Drawing is fun of course but I remember how seriously I took it as a child and I hate it when hear adults make patronising or discouraging comments about children's drawings. My first attempts at an illustrated nature diary date from my primary school days, aged eight.
There's a great drive for literacy and numeracy in schools today and, perhaps because of that, I think that drawing is probably undervalued, or at least it might be getting elbowed out to make way for other things. You can't measure progress in being visually creative as easily as you can measure progress in maths and English but I think the thought processes behind drawing are just as profound.
I Married a Monster from Outer Space
I like George's alien, which I've inverted to a negative from his pen sketch.
His picture seems to have a touch of Matisse, Klee or Miro about it and it reminds me of punk era performance poet John Cooper Clarke's (I Married) a Monster from Outer Space, which brings American B-movie science fiction into the suburbia of 1970s England.
she had the big bug eyes and the death-ray glare

feet like water wings - purple hair

I was over the moon - I asked her back to my place

then I married the monster - from outer space
Related Link

John Cooper Clarke - massive tribute to the punk poet features MP3s, audio and video clips, poems and lyrics, pictures, vintage reviews and articles. Find tour dates.


richard@willowisland.co.uk

Next page | Previous page | This day last year | This month | Nature Diary | Home Page