Hattie in a Hurry

Saturday, 21st June 2003, Page 2 of 2, West Yorkshire




Rocks | History | Workshop | Links | Home Page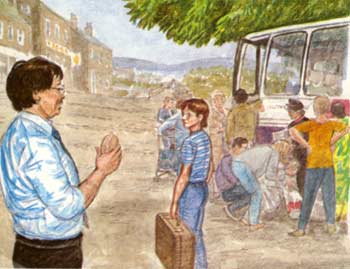 One of the few fiction books that I've illustrated was Hattie in a Hurry by Kate McManus (Arnold-Wheaton, 1987), the story of a town girl's adventures in a Yorkshire Dales village. It was part of the Story Chest series aimed at primary school children.
I took my reference for the characters and settings from all sorts of sources (needless to say the budget wouldn't have run to me spending a week in a Dales village!).
In the scene of Hattie stepping off the bus for instance the houses are from a watercolour I painted of Reeth, Swaledale, the bus is Barbara and John's from down the road and the figures unloading luggage are actually conservation volunteers I sketched hedge-laying at my old primary school. It was important to make the village multi-cultural, hence the lady in sari; which added a welcome splash of colour.
The Bus Driver's Tale
But who could I cast in the role of a bus driver? I felt Barbara's cousin David had just the right dependable, cheerful look you'd want from a bus driver so I photographed him with my Polaroid and popped him into the scene. He says he remembers that the ham sandwich he's eating was in fact a small stuffed toy hedgehog.
I could just imagine David speaking the dialogue in the story:
'Not bad? Why - if there's one bus you can be sure of it's the half past eleven up the dale to Fellside . . . Speaking of holidays though, I think I'd rather have Blackpool. Or Majorca - if I'm pushed.' (In fact David is more likely to head for North Wales, or Australia).
David was working for Slazengers, the sports equipment factory, in Horbury at the time. It's since closed and David has been in various jobs since then but 5 or 6 years ago he decided that what he'd really like to do was to be a bus driver! - he now works for Arriva driving on local routes. Or he does until he follows Mel to Australia in about 10 days time. I guess they have buses in Australia too but if The Adventures of Priscilla, Queen of the Desert are anything to go by David is going to need a makeover before he starts driving in Oz.
As my prediction has turned out to be so uncannily accurate it's a shame I didn't portray him in the role of a lottery-winning millionaire!
David's wife Mel appears as Hattie's sister Judith in the story, but in fact she is the mother of Rachel, who was my 'Hattie', although you could take them as sisters. I've hardly seen Rachel since she appeared in the book but, meeting her again at David and Mel's leaving do, I can still see a lot of Hattie in her. She's still got that bubbly enthusiasm. And she looks even more like her Mum! (but that's no bad thing).
The Teapot Robins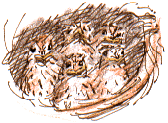 I included as much drawing from life as I could in Hattie: a bowl of lemons, a friend's cat, a geranium on a windowsill (drawn at my sister's) and in the final illustration (above, right) that's our round table and Welsh dresser, our mugs that I think have now all got broken, though we've still got the tin tray and, on the table, the teapot that lost its spout and which I fixed behind the trellis on the shed where it was adopted as a nestbox by a pair of robins.



richard@willowisland.co.uk

Next page | Previous page | This day last year | This month | Nature Diary | Home Page