That Old Chestnut

Thursday, 17th July 2003, West Yorkshire




Rocks | History | Workshop | Links | Home Page



There are plenty of conkers showing already on the old horse chestnut tree behind my mum's house. The house belonged to a Victorian mill owner and was built in 1865. The chestnut may have been planted around that time, when the garden was first laid out: it appears to be well over a hundred years old.
The tree officer from the local council who calls to look at it for my mother confirms that it's in good condition; that apart from cracking the tarmac immediately around the tree, it's doing no damage, and he suggests that it should be good for 20 or 30 years more.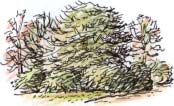 He also points out a rare variety of tree: a beech with variegated leaves. In over 25 years of looking at trees in the district he's come across only three (including this one). One of them is at Pontefract Castle. The Victorians turned the castle precinct into a public park so, like the horse chestnut, the variegated beech is a tree that the Victorians favoured.



My mum points out a circle of grey feathers on the lawn below the beech. They appear to be wood pigeon, or possibly collared dove. She looked out this morning and saw a sparrowhawk feeding on its prey here. A number of the feathers have been nipped off sharply at the quill end.



richard@willowisland.co.uk

Next page | Previous page | This day in 2001 | This month | Nature Diary | Home Page