Teasels

Tuesday, 22nd July 2003, West Yorkshire




Rocks | History | Workshop | Links | Home Page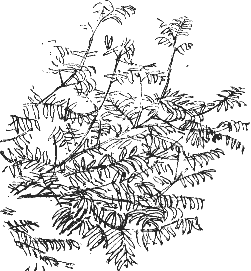 Another foliage study: this time it's the rowan or mountain ash in our front garden. There are hardly any orange berries left on it, most have been eaten.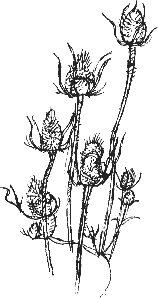 Teasels grow where they decide to grow. We didn't want them towering over the middle of the pond on the raised bed, but there they are.
One of the teasel heads (centre, right) has two bands of tiny flowers around it, like a lilac scarf and a woolly headband on a spiky-haired head.
Goldfinch Guaranteed

We used to pot up some of our surplus teasel rosettes (i.e. the young plants) and sell them on the Wakefield Naturalists' Society stall at the Wakefield Flower Show.
'We can guarantee that you'll have goldfinches visiting your garden if you plant these!' we told customers.
Next year a woman came back:
'You remember the teasel that you sold me last year?: I planted it and, you were right; we had goldfinches!'
'Zippity doo dah'
I was amused by the contrast in two e-mails that came this morning, thanking me for freelance illustration work that I'd supplied. The first as it happens, was for a sketch of a goldfinch for client in the south of England; the message was along the lines of 'Thanks, Here's the order number, Regards . . . '
That's the type of reaction I expect from a satisfied customer in England.
What a contrast to the message from a client in Marin County, amongst the redwoods in northern California who wrote about another bird sketch of mine:
OK, Richard, my talented friend, we've got our logo! Yahoo!!! Everyone loved it with the changes. And I must say I'm very pleased and very excited to put our plan into action. Let's do it . . .

Zippity doo dah and Hazah, . . .
That's the first client I've ever had who's said 'Zippity doo dah and Hazah'!
'Aye lad, I expect that will do,' would be the Yorkshire way of expressing satisfaction. But it does me good to have an injection of American enthusiasm occasionally!



richard@willowisland.co.uk

Next page | Previous page | This day two years ago | This month | Nature Diary | Home Page