A View Obscured

Friday, 25th July 2003, West Yorkshire




Rocks | History | Workshop | Links | Home Page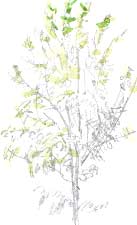 I've got half an hour to wait, here in Dewsbury Hospital car park: time to do a watercolour.
I don't want to sit with the windscreen wipers on, so I can't draw the view ahead. I wind down the side window and start sketching this small rowan, one of several dotted around the shrub beds.
First a white van parks in front of it . . . then a huge red van, so that's as far as my sketch gets.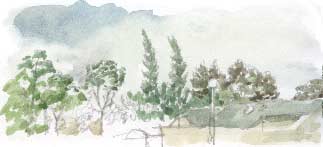 So, looking out of the passenger window, I draw this row of trees, including two tall Lombardy poplars in pencil. I've just painted the sky in a couple of washes of cool and warm greys when a car reverses into the space next to me, blocking the view of the trees. As it's raining I can't finish the sketch outside.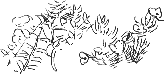 I wonder if I dare draw the potentilla in the shub bed just six feet from me on the right or whether they'll find something to block my view of that too!
In fact I don't get far with the shrubs because the car on my left moves away again and I have time to add a little more watercolour to the sketch of the row of trees.



richard@willowisland.co.uk

Next page | Previous page | This day last year | This month | Nature Diary | Home Page