I've been busy printing copies of my new Sketchbooks Sushi series. This is literally desktop publishing: the process starts here at the computer, goes to the printer, then, after collating, folding and stapling with a Bostitch booklet stapler (saddle stapler), I trim with a fairly hefty hand-operated desktop guillotine.

There's one final part of the process that takes place on the studio floor: pressing the booklets so that they don't have a tendency to spring open. I've tried putting them in bundles under a great pile of the heaviest books from my shelves but it doesn't have the same effect as the pressure you can get with a press.

The Turning of the Screw

The screw still works so well that just flipping one end of the handle will send it spinning through a full turn but I wedge the press between my foot, or knee, and the wall so that I can give it a last twist of compression using both hands. Not surprisingly, it has made black marks on the studio floor, so I've cut a piece of card for it to stand on.
Copy Press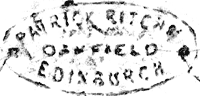 My Dad brought this old copy press back from his Coal Board office in about 1968 or 69. It may then have been sitting around in some collliery office for a hundred years. He thought that I might be able to use it for taking lino prints, and I did do a few on it. He told me that when he started working in an office, just before World War II, presses like this we still used for their original purpose of copying business letters. Today you're more likely to find them sold as antiques or used as a book press in a bindery.
The brass label records that it was manufactured (or perhaps just retailed) by Patrick Ritchie, Oakfield, Edinburgh. There's no date but the filigree of gold lines on black used to decorate it makes me think it's Victorian rather than 20th century, although probably design was pretty conservative over the years these presses were made (I can imagine the Ritchie's salesman saying 'and our latest model features hand-painted gold marbling, to suit the modern office').
It's about 10 inches (24 cm) high, and 15 inches (40 cm) X 8 inches (20 cm) at the base. It's just a fraction too small to take A4 paper. The 'daylight' - the space when fully open - is a little over 2.5 inches (almost 7cm).
Victorian Desktop Publishing
In an article published in The Office magazine Darryl Rherr writes:
Desktop Publishing's first century began in 1856, when British chemist William Perkins discovered the first synthetic dye, aniline purple. This dye pointed the way to a wide range of new inks, including "copying ink" used in the first practical method of reproducing business documents.

An original written with copying ink was placed against a moistened sheet of tissue, the two were pressed together in a massive iron press, and a copy would appear on the tissue. Since the copy was backwards, the tissue had to be held up to the light to be read. The copy press became a fixture in every Victorian office. Today, they are sold in antique shops as "book presses," their true function long forgotten.
Onion Skin
In a discussion on Books Arts Web D. Guffey gives this account of the process:
. . . the purpose of this press was to make copies of documents prior to the invention of carbon paper. A piece of onion skin type paper was slightly dampened and placed on top of the page to be copied. After sitting in the press the ink wicked up through the onion skin to make a copy (as opposed to a mirror image).
I remember a brand of carbon paper (itself a fast-vanishing product) that was marketed as 'Onion Skin', perhaps in a reference to the former technology.
Carbon Copy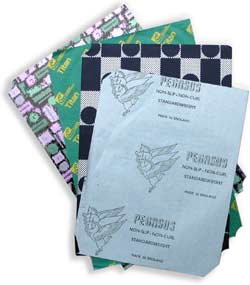 Just in case you're feeling a twinge of nostalgia for carbon paper here are the varieties that have been sitting in a pile of unsorted papers taken from the drawers of my old desk. They include 'Marathon' and 'Titan', both produced by Columbia, and, going back to pre-A4 days, 'Pegasus'.
Titan, Marathon and Pegasus? Do you think the marketing department might have been overstating the mythic grandeur of their carbon paper?
I remember books on 'how to be an author' which told you how to make a copy of your manuscript to send to publishers using a freshw sheet of carbon paper under the top copy in your typewriter and an old sheet of carbon paper under that for a reference copy to keep yourself.
I'm not getting rid of my old Imperial typewriter but I felt it was time to put these sheets in the bin. With my scanner and printer setup I can't imagine any circumstances when I'd ever use carbon paper again.

Related Links
Early Desktop Publishing by Darryl Rherr at the Dead Media Group
Book Arts-L a discussion group at CoOL - this 'project of the Preservation Department of Stanford University Libraries, is a full text library of conservation information, covering a wide spectrum of topics of interest to those involved with the conservation of library, archives and museum materials.'
Richard Bell, richard@willowisland.co.uk