There's unfamiliar call in the treetops in Thornes Park, Wakefield. For once we haven't brought our binoculars with us: it's so frustrating not to be able to see the bird that's making a noise somewhat like the 'yaffle' - the mad laugh of the of the green woodpecker - but higher-pitched and a bit more continuous.

We catch sight of the bird, in fact there's a pair of them, in the top branches of a sycamore. From the silhouette we guess that it's a woodpecker but a small one that we're not familiar with: the lesser spotted. We're wrong: one of the birds flies down and now that we can see the colour it's obvious that it's a nuthatch.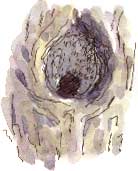 It flies to a hole, a scar where a branch has broken off a mature beech tree. There's a neat hole towards the bottom but most of the cavity is filled with hardened mud which is stippled with beak-marks. At first I think that this must be part of the tree or that the stipples are the pores of a fungus. The filling blends in well.

Richard Bell, richard@willowisland.co.uk