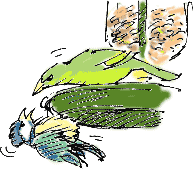 We've had a lot of finches in the garden recently - green-, bull-, chaff- and gold- probably as a result of the wild bird seed that has been on offer at our feeding station but also, probably, because it's that time of year; the finches are leaving their winter flocks and dispersing but they haven't got down to the business of nesting yet.
A blue tit and a greenfinch are fighting it out on the seed feeder this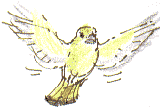 afternoon. The greenfinch thrusts its bill agressively at the resident blue tit, a threat which invariably sees off the sparrows, but the blue tit, defending the territory around its nestbox on next door's kitchen wall, has a trick of it's own: it hangs upside down, clinging to the rim of the feeder like a punk pirate on a boarding party. The greenfinch decides it's not going to be able to continue to nibble in peace and it flies off.

Richard Bell, richard@willowisland.co.uk