Reed Bunting

Tuesday, 8th April 2003, West Yorkshire




Rocks | History | Workshop | Links | Home Page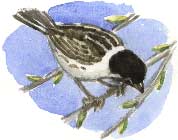 Looking from the canal bridge onto the silver birches we've got a perfect view in the bright afternoon sun of a male reed bunting as it perches on the slender branches examining the buds. It appears to be pecking at the leaf buds but with binoculars there's no sign of it picking them off so its more likely that it is looking for insects or spiders.
In such a good light these streaky birds are quite striking.
Perch and Pounce
A female (or perhaps juvenile) kestrel watches the field intently as it perches in a hawthorn by the towpath not far ahead of us. It swoops down to the grass where it pauses for a while, apparently missing whatever it had seen, and flies on to another hawthorn where it does the same. It flies over the marshy field, hovers for a while but soon it is perching on the hedge at the far side of the field, watching again.
During the 3 or 4 dives it makes as we're walking past it doesn't appear to catch anything.



richard@willowisland.co.uk

Next page | Previous page | This day last year | This month | Nature Diary | Home Page