| | |
| --- | --- |
| | This GR post-box, manufactured by W T Allen of London, is incorporated into the wall of the Wellgate Centre, Ossett, purely to give period character to this 1990 shopping arcade designed in a Victorian style. The Wellgate Centre replaced a boxy single story greengrocers and pet shop: buildings so peculiarly unremarkable that, these days, I would, perversely, probably have been tempted to draw them. |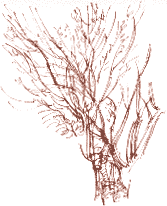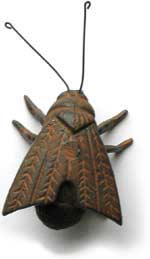 Next stop: the adjoining small town of Horbury, where this sycamore by the car park is just starting to burst into green.
The Spring-cleaning Bug
I've got loads to do on my new series of Sushi Sketchbooks, so what am I spending my time doing? Clearing my studio so thoroughly that it now looks more like a room set in Ikea than a place of work, doing my accounts, printing existing titles: it's good to start a new project with a clear, calm space but, if I don't get to the end of this obsession with putting my life in order soon, Sushi won't get launched for another month.
The bug paperweight, which has been guarding a pile of miscellaneous receipts for the past six months at last has a clear space on the desk to stand on. It's a migrant species, which touched down here after a transatlantic flight last summer: my thanks to my friend Carollee for sending him my way.
Carollee recalls this April encounter with a migrant moose on a Maine salt marsh:
I hear a soft snort just behind me and jerk around. MOOSE stands broadside to me. It is huge, brown and 15 feet away. The wind carries my scent through the only opening in the shrubby hedgerow that divides one marsh from another. He turns away and looks toward the woods. Ponderously, his head swings back to me and I think, "This is it, the decision! Will he come through the opening and over me or will he go into the trees?" He looks back at the woods and highsteps gracefully, silently and oh, so rapidly into them. I begin to breath once more with a whoosh--an eternity was experienced within a single breath.
Richard Bell, richard@willowisland.co.uk