In this view from my studio window, what are those parallel lines in the meadow that show up in the afternoon light? They were there when we moved here twenty years ago.
Old boundaries? An old drainage system? Some relic of activity associated with the disused sandstone quarry hidden amongst the trees to the left?
None of these seems likely to me but I don't have a better explanation.
The larger house, right of centre on the skyline, is Netherton Hall. The present building is 18th century but there has been a hall at Netherton since the days of Henry VIII at least.
Down to Earth
I've cropped the panorama, taken this afternoon, to exclude all traces of back gardens and next door's extension. Only the large green 'caterpillar' at the bottom hints at the neatly trimmed evergreens next door, in contrast to the bare oaks and ashes and the greening willows alongside Coxley Beck. The stream follows a geological fault which brings beds of sandstone (on the far side of the beck) alongside the softer rocks (shale or mudstone) that underlie the meadow.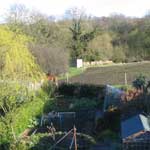 Our back garden (left) benefits from its meadow soil. When the house was built in the 1930s the long back garden was enclosed directly from the meadow. These days the first stage in developing a site for housing is often clearing the topsoil, usually as a prelude to raising site levels or flattening out natural contours.
Succulent
It's after sunset before I have chance to stop and draw. This succulent with prickly-edged leaves which we keep on the kitchen windowsill provides a subject but its a subject I would rather have drawn in natural light: the 'leaves' (I guess they are in fact modified stems) are canoe-shaped but it's difficult to bring this out when drawing by artificial light from several sources.


Richard Bell, richard@willowisland.co.uk