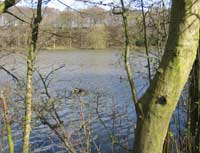 After last week's rain the water level is up at Newmillerdam, near Wakefield. That's no problem for the nesting great-crested grebes who build a floating platform of vegetation anchored to branches near the shore. When I first spot the male he is carrying some leafy plant material to add to the structure.

Head Plumes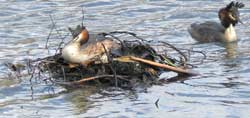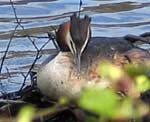 When you see a pair together it's obvious that the male has the larger crest and ruff. Grebes were hunted almost to extinction in Britain when their plumage became a fashion accessory for Victorian women. It wasn't the extravagent head plumes that were the attraction but the dense, downy feathers of the breast.

Wakefield Naturalists'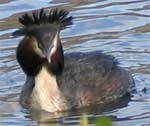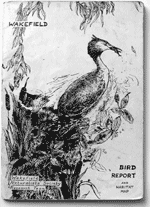 Grebes were still in the process of making a recovery in the late 1960s when I joined our local naturalists' society. The Aire and Calder valleys with their mining subsidence lagoons and flooded gravel workings had become a stronghold for the species.
I drew the a grebe for the cover of the 1972 Wakefield Bird Report, which, as far as I know, was the first since Victorian times. This was my first published book cover. I later produced a grebe anorak badge for the society which, luckily, that was about it as far as my career as a fashion designer went. I have to admit that 'designer anorak' is still the look I go for.
A Prehistory of the Pugneys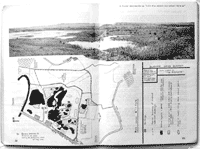 Richard Brook, still our Conservation Officer 32 years later, used this panoramic shot, taken in May 1972, of a wild looking wetland as the centre spread of the report.
He quotes a planner as describing the site as 'a bit of an eyesore that needed tidying up'. It has been: the 'eyesore' is now Pugneys Country Park, complete with windsurfers, miniature railway and, on the reserve lake which now occupies the far right corner of the panorama, you're still likely to see great-crested grebes at any time of year.

Richard Bell, richard@willowisland.co.uk