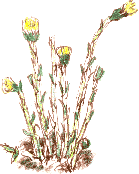 A starling is calling, making its nasal whistle. A bumblebee ruffles the grass blades as is buzzes by a clump of red dead-nettles. Two Canada geese go over at treetop height, heading up the valley: a surprising hint of wilderness in this back garden setting.
The flowers of the coltsfoot, growing amongst the last of the leeks in the raised veg bed, are closed as it's now gone 6 pm. Despite the on-and-off rain I wanted to come out and do at least one small drawing today so I'm sitting in the greenhouse to draw this.
The coltsfoot rhizomes have found their way under the concrete path and its leaves are coming up here in the greenhouse. While I like its flowers and its scaly flower stems I need to get digging now to keep those spreading leaves and bootlace rhizomes in check.

There's a welcome bonus elsewhere: In the veg bed where I cleared the old broad bean plants a few months ago new bean plants are springing up. A few beans must have ripened in their pods and dropped to the ground.

Richard Bell, richard@willowisland.co.uk