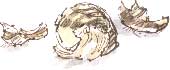 The remains of a feast on the patio, but not from our alfresco pasta of yesterday evening: it's the local song thrush that has become adept at extracting snail from shell. Any hard surface that is handy serves as an anvil. We regularly find ourselves cruching over the empties on the concrete path by the greenhouse and the paving slabs and brick path at the front.

We watched it yesterday morning tapping and shaking as it ate this garden snail.
By the way, what was left of the Baron Romero wine from yesterday was acceptable with the spicy pasta Barbara concocted this evening. Wonder what you'd drink with escargots.

Richard Bell, richard@willowisland.co.uk