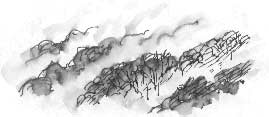 Mist rises in wreaths amongst the dark trees of the wood.

Heavy with rain the buddleia has keeled over, burying the dogwood alongside it. The bush, growing in a confined space at the back of the shrub bed has become top heavy despite regular prunings. The purple blossoms must have become waterlogged and the weak shrub's stem wasn't up to the job of supporting the extra weight. The goosegrass, scrambling up amongst its branches probably added to the load when its velcro like stems and leaves also became sodden.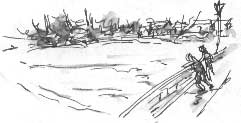 The river is up, covering the bridge piers and rushing under the arches. A man takes a photograph, dog walkers stop and gaze.
Wreath
It's good having the Shorter Oxford English Dictionary loaded on my hard disk. I was thinking 'do I really mean "wreaths"?' But, yes, 'wreaths' is the right description for the wisps of mist I saw this morning:
A single turn or coil of a coiled thing; a curving or spiral mass of cloud, vapour, etc. Also, a winding motion.

Richard Bell, richard@willowisland.co.uk