There's a lot of blackbird activity with what looks like a family of them flying across my Mum's back garden and in and out of the cypress. They move so fast that it's difficult to freeze the movement in my mind's eye. The direct flight across the lawn is over before it registers on my retina, so it is the slamming on of air brakes - spreading the wings and fanning the tail - that is the image that sticks in my mind.


Large white butterflies are chasing each other in the sun and I catch sight of a red admiral. Admirals, peacocks and small tortoiseshells will soon be feeding on the sticky juices of fallen plums. My Mum's Victoria plum, which I guess might be a hundred years old (it was a mature tree when we moved into the house in the mid-1950s) is once again heavy with fruit this year.


A large flesh fly rests on my page.

When the blackbird activity subsides I switch to drawing a cloud . . . then add chimney pots, the roof, a window and part of a cypress.
This is a Rotring Art Pen (a fountain pen) drawing with colour added using my pod of watercolour crayons (used dry).
A Party by the Pool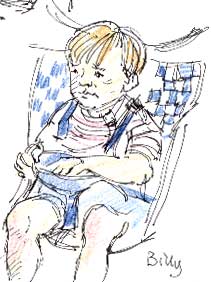 It seems to be a week for birthday parties but lighting candles on cakes outside is a team effort and it's a race for our nephew James (this morning) and our friend Malcolm (this afternoon; what a hectic social round) to blow them out before the wind does.
I sketch Daina and Malcolm's grandchildren eating ice cream by the pool - the pool in this case being an inflatable paddling pool. Frank and Corinne might look cute getting creative in the sandpit (top right) but later, when I'm sitting on the bench drawing their youngest brother Billy, I turn to ask them what they're up to:
'She told me to put this worm on your head!' says Frank.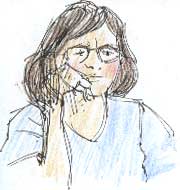 I first drew Dawn, Daina and Malcolm's daughter, when she was at school. Today, four children and a number of years later, she hasn't changed that much.
She trained as a nursery nurse and worked for years as a nanny and seems to be able to take her children's sand art, splashes, spills and earthworm opportunities in her stride.

Richard Bell, richard@willowisland.co.uk