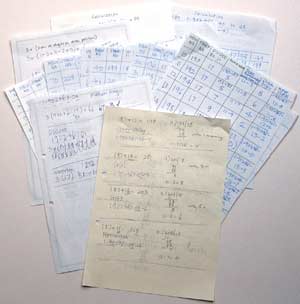 Einstein's proof of the Unified Field Theory?
No.
Do-it-yourself fractals the hard way?
No: these are my calculations for the check digits for my ISBNs. ISBNs are International Standard Book Numbers, for example:
1-902467-09-4
The last digit is there to ensure, through a simple calculation involving the rest of the number, that the ISBN is valid.

When I set up my imprint, Willow Island Editions, in 1998 I was assigned a run of 100 numbers and I paid £50 to have the first 10 check digits calculated for me.
Now that I've used those up, I'm so pleased that my schoolboy maths has been up to the task of calculating the remaining 90 myself and delighted that the Book Numbering Agency has confirmed that I've got every one of them right. Yippee!! It's the most arithmetic I've done since the 'O' level exam.

It was so calmly relaxing to sit down with a cup of Chai (a spicy Indian herbal tea I've just discovered) and enjoy the problem-solving followed by the steady work of making the repeated sequence of simple calculations. I used a calculator only twice and set out the stages of each calculation in tables on scrap paper, so that I could keep track of where I'd got to.

Sequences and Spirals

I've heard the phrase 'the beauty of mathematics' and, even on such a mundane job, I had some sense of that because the results at every stage conformed to a simple pattern.

It reminds me of the sequence that you get in the branching of a fern leaf or the spiral of a shell. I scan the list of numbers in the e-mail I sent to the Book Numbering Agency and pick out the odd error I'd made in copying them out: as easy to spot as one frond of the fern that was too long or a sudden kink in the spiral of a snail shell.
The new numbers should keep me going for some time. I've produced only ten booklets since 1998 and, even if I was now to produce a book a month, the remaining 90 numbers would last me seven years.
The Demise of Jock the Spam Killer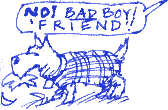 I've enjoyed a free trial of McAfee's SpamKiller and it's been so much fun to see all those tedious junk e-mails getting savage treatment. But the version I was using doens't seem very stable on my Windows XP computer and there are so many exceptions to any rule you might apply that I have to sort both the 'killed' and the 'saved' mail every time.
For instance, Nancy Patterson, an American watercolour artist, was telling me how much she's looking forward to some day visiting Ireland, the home of her ancestors: 'I also play the tin whistle......so painting the landscape by day . . and playing with the locals in sessions at night . . . with a pint of Guinness of course -- is my dream vacation!'
'Dream vacation'!!! There's a familiar junk mail phrase! Jock the SpamKiller seized the message before I had a chance to read it - like a dog waiting at the letterbox when the postman calls - and tossed it straight into the 'killed mail'.
Two months later and he still isn't house-trained. I'm sorry, but that savage beast will have to go.
Apologies if you have recently sent me a message that he's eaten. I'm going back to sorting my mail by hand again.

Related Link
Nancy Patterson: watercolors, pastels and charcoal.
Richard Bell, richard@willowisland.co.uk