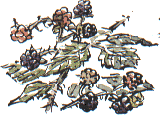 It's been a good year for brambles: their prolific arcing stems are covered in sweet black fruits as summer comes to a close. Barbara has been fighting back against their insurgencies in the herb bed and flower border but here at Roach Hills, Garforth, the tangle of brambles has blocked the narrow path to one of the small clearings of autumn flowers.
Green-veined white butterflies rest on the hedgerow plants and settle amongst the blackberries in a sheltered thorny hollow.



The main area of the nature reserve's hummocky turf has recently been mowed so, just when I've started drawing this autumn gentian, growing next to a stunted gorse by a rabbit hole, the other members of the Wakefield Naturalists' Society who we've come here with decide that we'd do better elsewhere.

Ledsham Banks

On a south-facing grassy bank at this Yorkshire Wildlife Trust reserve, formerly known as Ledsham Vale, devil's-bit scabious are nodding their rounded flowerheads in the breeze in a drift of bluish purple.

A few rock-roses grow amongst them. Common rock-rose, Helianthemum nummularium, isn't a member of the rose family, it's one of the Cistaceae; the Rock-Rose Family.

A small red/orange fungus with yellow gills is growing at the edge of the path amongst short grass by a ragwort leaf.
A Leventhorpe White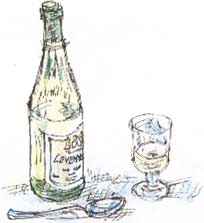 Because of the wind and wet we've had during August, many garden flowers that would normally go on flowering into the autumn are now looking bedraggled, however these geraniums in a window box have plenty of life in them.
We've come for lunch to our friends (and fellow Wakefield Nats members) Roger and Sue Gaynor. They've recently visited a local vineyard, Britain's most northerly commercial vineyard, at Leventhorpe, Swillington (not far from Temple Newsam, Leeds). This is the Leventhorpe White Rose Table Wine (which slightly confused me at first as their is no hint of rosé in it!).
The perfect choice after a late summer wildflower walk: cool, sweet and fruity with a bouquet that reminds us of pears.

Related Links
Roach Hills: a previous naturalists' field trip
Ledsham Vale a visit with my Calder Valley Walks group in May 1999.
Richard Bell, richard@willowisland.co.uk