It's so satisfying to have written a diary page for every day this month. It's something that I haven't managed to do since March 2002. Starting the mailing list gave me a bit of a boost because it helped give me a feeling that there's a group of readers out there. The stark statistics from my server always seem rather abstract. Thank you for all your encouraging comments.
I like to try and write about what I experience every day because when something a little out of the ordinary - like our bird and wildflower reserve visits this weekend - has happened it's good to make a record of it but equally, when my day gets hijacked by the crushingly mundane - like clearing the drains last week - it's good to reflect on that too.
In A Short History of Almost Everything Bill Bryson points out that we can each expect about 650,000 hours in our lives, barring accidents and serious illness. After that, no matter what we do, it seems that our bodies feel that it's time to start closing down.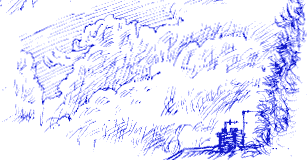 650,000 hours. It's not much to explore this world, which might, for all we know, be the only one we will ever experience, so looking, really looking, at the world around us seems a good way of using those precious hours.
Those particular cumulus clouds, building and collapsing in this morning's sunshine, won't ever be seen again.
This Pen was made for Writing

You remember this Parker pen? The one that I bought especially for writing, in blue ink, because I'd found I was using my drawing pen: it flows so well when I'm writing that I couldn't resist using it for two or three drawings.
The result was that when I sat down to write with it, after drawing these clouds, I soon found that I'd run out of ink. As it takes only Parker refills I now won't be able to use it again until I've called at the stationers for some cartridges.

Richard Bell, richard@willowisland.co.uk