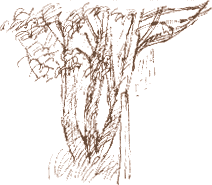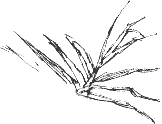 My Sushi Sketchbook, The Normanton Chronicles starts with a drawing I made waiting for an appointment at the health centre in the town. Six months later I'm back for a routine check up and, as usual, I take the opportunity to draw.
The sycamore with three trunks grows by the car park while, in the waiting room, the potted palm gives me a more exotic subject.
As you can see, I didn't have long to wait.

The Long Journey of the Sole
I've walked, well it must be hundreds of miles, since I last saw the podiatrist. Last time she fitted me out with a slight raise for my left heel. This time she's more interested in how my insoles are progressing than in my feet/legs as such:
'The body can cope with a degree of asymmetry,' she tells me, 'and once we've corrected any pathological asymmetry there's no reason to go any further.'
That's great, and I feel like going on a long walk to celebrate.
While she makes a minor repair on the insoles I draw the model of a hip joint.
Talking of foowear, this I had to smile at a advertisement for a comfortable casual that features a 'foam-lined leather tongue'. Some mornings I know just how that shoe feels!

Related Link
Hotter, the shoes with the 'foam-lined leather tongue'
Richard Bell, richard@willowisland.co.uk