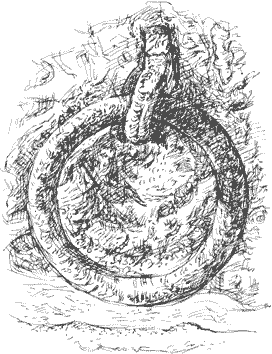 Bond or blessing? Snare or sanctuary?
I had a feeling that I should start work on my new Sushi Sketchbook of the area around my hometown with a drawing of this old iron ring on the Strands Farm bridge (numbered CH 31) over the Calder and Hebble Navigation, Horbury Cut.
I've seen the rotting carcase of a rabbit hung from this ring as if it was a gibbet. I think of bonds but also of the sanctuary knocker on a medieval church or cathedral: grasp it and you'd have the Church's protection from the hue-and-cry.
In a century or more the ring has worn a groove in the stone behind it. Like so many subjects that appeal to me for drawing it is old, handmade (perhaps of locally smelted iron) and it's set in a particular context: a yard-square block of sandstone which is itself pitted with ironstone pebbles.
The stone bears an Ordnance Survey spot height (a stylised arrow carved on the canal side of the stone). In modern terms it is about 28 metres above sea level, I can't find an older map at the moment.
With a breeze to cool me down in this glorious September sun, it's pleasant to draw but at one point I find I've got a nettle waving by one knee and bumblebee buzzing by the other, then a wasp appears in front of me. The countryside seems to have a sting in it today.
A speckled wood flutters by.
My guess is that the iron central span of the bridge replaced an earlier stone arch. Certainly the supports look much older than the span. I believe I remember the iron beams being replaced 20 or 30 years ago, prior to that I dimly remember there being a dated maker's plate on the arch.
A pair of rounded capstones on the curving walls at each end of the bridge once helped prevent tow ropes becoming snagged as horses crossed it. This may have been a place where at one time the towpath changed banks as the canal approached a cutting, or perhaps it marked the point where twin towpaths on either side of the canal merged to one at the approach to the narrow cutting.

Richard Bell, richard@willowisland.co.uk