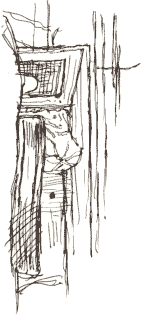 Litter bin on the train into Leeds (couldn't quite face drawing the commuters)
Waiting
Off to Leeds, via my favourite way of getting there, the train.
I drew these bags and scarves while waiting outside the changing rooms for Barbara at M&S and Next.
What we'd really come for though was to try and get Rough Patch into the big bookshops in Leeds. You can now find it in local branches of Ottakar's, Waterstone's and Borders. Try looking in the gardening section first, which is usually next to the natural history section, which would be another home for it. Then again, I think it might be equally appropriate to keep a copy in the art section, if the bookshop kept a range of drawing titles.
If in doubt ask; they can soon look it up for you.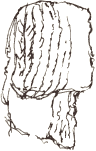 We celebrate with a meal at the Café Rouge: pea and ham soup and poulet Bretone with a glass of the mellow house red. By then, I've got in Gallic mood, so when the waitress asks if we'd like a dessert, I reply:
'Peut-être la tarte poire et l'amande, s'il vous plait.'
She doesn't understand my French. She's a student from Poland.

Richard Bell, richard@willowisland.co.uk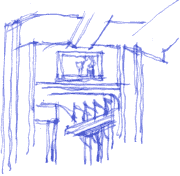 13.43 p.m., the return train,