A sense of touch
The piano has a mellow tone, the bass strings are set diagonally to fit a longer string into the space available. I loved the sound of it and, when I was 7 or 8, I started taking lessons with Mrs Woodcock, the music teacher at the local secondary modern school. Even in those days my hands were shakey and, a bag of nerves at my first exam (in a church hall in Castleford?), I barely passed. The examiner wrote on my certificate:
'The candidate has a poor sense of touch and a sense of touch is the basis of good piano playing'
That, thankfully (for my family, if not for me), was the end of my musical career :-(

Link
Piano information (683 pages of it! How did we manage before the internet?) at pianos.co.uk
Richard Bell, richard@willowisland.co.uk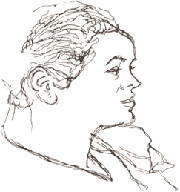 Not sure what happened with this drawing of my niece Sarah. She was talking and moving, so that's probably why the proportions went so awry.