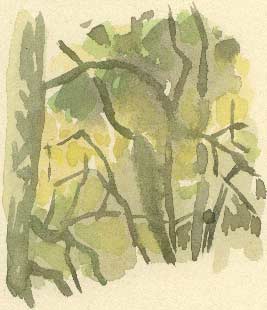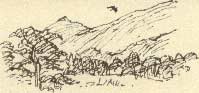 The forecast is 'rain in the morning followed by heavy showers in the afternoon': this may seem a subtle distinction but, as the Lake District is the wettest part of England, it's hardly surprising that, like the Eskimos and snow, the locals should have so many ways of describing a dull, rainy day.
It's some years since we explored the southern end of the Lakes, so we head, via Keswick, Grasmere and Ambleside, to Skelwith Bridge (left). The crags dissolve into grey ragged clouds; hillside cataracts are swollen into mare's tail spectaculars and the fall above Chester's Café at Skelwith Bridge is a sleekly powerful standing wave in a frothy cauldron of foam.
Tarn Hows is the Lakeland walk that we feel we can manage whatever the weather. In the circuit, which doesn't take much longer than 30 minutes, we walk beneath tall conifers (which remind me of woods in Austria), by a miniature marsh where the deliciously fragrant sweet gale, also known as bog myrtle, grows by a clear stream and then we cross grassy slopes nibbled to fine springy turf by Herdwick sheep.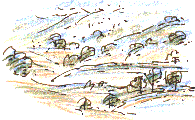 In extent the Tarn is similar to one of our favourite country park walks back home around Newmillerdam lake but the rugged crags and high fells that circle it give it a grandeur that, I have to admit, our local country park lacks.
The silence here is unlike anything you can experience in our busy part of West Yorkshire.

Richard Bell, richard@willowisland.co.uk