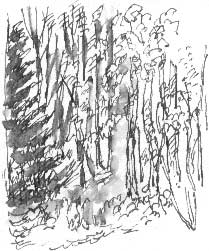 The view from the tea room at Betty Fold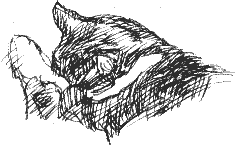 Braveheart is the resident cat at the Jumping Jenny Tearoom at Brantwood, Ruskin's home overlooking Coniston Water. The last time we were here, a few years ago on a cold wet February afternoon, I started drawing Braveheart, who was sitting in the log basket by the cast iron wood-burning stove, but before I managed more than a few lines he decided that he'd feel warmer sitting under the stove.
Today he stays settled in his cat basket by the stove as I draw, only occasionally twitching an ear and taking a cursory look around him.
Jumping Jenny isn't a cat: it's Ruskin's rowing boat, preserved alongside his coach in the outhouse adjoining the café.
Betty Fold
The dog, a border collie, was a visitor to Betty Fold, a tearooms near Tarn Hows. The lady who runs the tearooms told us that the house had originally belonged to a stained glass maker (Arthur Thornton?) who had been influenced by Ruskin, although he was of a younger generation. Digging in the garden, she discovered a quantity of Victorian painted glass - stacked horizontally in a pile - which she has had restored and incorporated into the adjoining cottage.