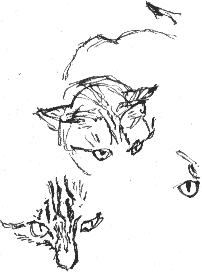 You know how some cats breeze into the room with a nonchalant, laid back hi!-how-are-you - pleased-to-meet-you! air; casually rubbing a brow against you as they mosey around, tail confidently errect, before they're distracted by more interesting business?
They behave like celebrities don't they? Well this particular cat is a literary celebrity, and doesn't she know it? She's the kind of tabby who I can't help wanting to draw when she settles herself down on the windowsill in the conservatory.

Fannie first appeared the second volume of Marilyn Edwards' The Cats of Moon Cottage trilogy (due to become a quartet next year). In the third volume The Cats on Hutton Roof, Fannie, her sister Titus (notall ginger cats are toms, Marilyn discovered, after she'd named the kitten) and Pushkin, the diffident Russian Blue, are relocated when Marilyn and her husband Michael move from Moon Cottage, Richmansworth, to the Old Coach House in the hamlet of Hutton Roof, Cumbria.