Captured on Film
John's work is featured on at least three wildlife calendars for 2006: at W H Smith's, Morrisons' and Woolworth's (the latter is, I believe, entirely his own work). His entertaining talk highlights the patience, knowledge and ingenuity required by a wildlife photographer: none of which is much use without the eye for an image and the instinct to catch the right moment.
Take a look at his WildScenes website (see link below) to see the range of his work which includes birds of prey, wild flowers and insects.
A Touch of Frost
Even when he's back in his studio on Wakefield's south bank, John keeps an eye on the local wildlife, such as the swans, kingfisher and mink on the Calder.
This summer his riverbank premises were overrun by a film crew but they weren't there to film John at work; they were filming David Jason in Near Death Experience, an episode of A Touch of Frost.
Why John hasn't got his own series yet I'm not sure.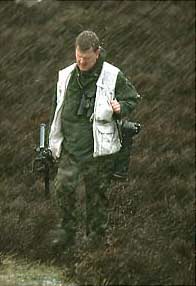 No, this isn't Ray Mears' stunt double - John, photographed in his natural habitat by fellow wildlife photographer, Steve Magennis.