With sun and a clear blue sky, the overnight frost soon melts away. They've forecast 'murk' and rain appearing from the south, shrouding the Welsh hills in mist on its way here, so we decide to make the most of it and, as we've got a couple of errands to see to in Dewsbury, we walk along the towpath into the town.
| | | |
| --- | --- | --- |
| | | |
| A kingfisher streaks along ahead of us; it's the first we've seen on this stretch of canal for a while. | There are three goosanders on the canal below the Figure of Three locks and two more on the river in town, behind the retail park. | But the most memorable winged creature we see is this batman, carved on a Victorian pub by the bus station in Dewsbury. He must be related to Fungus the Bogeyman. |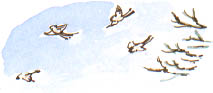 There are moorhen and long-tailed tits along the towpath too. As we leave the sound of traffic at Horbury Bridge behind us and enjoy the quiet and the

colour, not to mention the warmth, on the sheltered towpath, I find myself relaxing; if we were in the Peak District again or the Lake District I couldn't enjoy it any more. Even though it's a half term holiday for the local schools we meet no-one until we're on the outskirts of Dewsbury.
We stop for a cappuccino at the café overlooking the canal basin at Savile Town. Sitting at a picnic bench watching the narrow boats and people arriving with various supplies makes us feel as if we're on holiday.

Two Straight Lines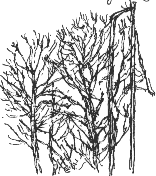 It takes us an hour and a half to walk into town along the towpath but I've done it comfortably in one hour when I've been striding along to catch a train at Dewsbury station. As we have an appointment this afternoon we decide we better take the bus back. I sketch trees in the grounds of the parish church, now known as Dewsbury Minster, from a bench in the bus station. It's a shame that Wakefield cathedral doesn't have so much green space around it.
After waiting 15 minutes for the bus, it takes 45 minutes to return to the stop at the end of our road. This is partly because of a couple of road works but also because the bus route takes in every estate along the way. If we'd set off walking briskly we could have been home just as quickly.
As I've said before, I wish they'd reopen our local railway station. Trains don't can't stop at everybody's' door but they do go straight from one local community to another in about 5 minutes, for those who don't mind the walk to the station. We've got the line here, we've got the trains coming through every twenty minutes, but they just won't let us get on them!
Richard Bell, richard@willowisland.co.uk