Paul the gardener comes for his final session to help us get our garden in shape for the spring. Today's project is taking up the front lawn and the beds of dog daisies and periwinkle alongside. I take away the turfs and stack them in an old compost bin to make loam.
By the end of the morning he has added four bags of pea gravel and four bags of sharp (river) sand to improve drainage and rotivated the area. In another month I'll rake it over and sow it with grass seed.
Turf-lifting Spade

He's brought along a kind of spade I've never seen before which is specially shaped to make lifting turfs easier. It's angled so you don't have to bend too much. Its shape resembles the spade symbol in a pack of cards.
It's good to work with Paul. Not only does he have years of practical experience on all manner of subjects connected with gardening and the ability to work in a fluent way (I'm forever stopping) but, having lived in Horbury all his life, he's got a fund of stories about local characters. He's also got an inexhaustible supply of similar stories that he remembers his father and grandfather - who ran a butcher's shop in the town - telling.
Sheep up Storrs Hill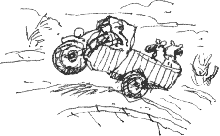 One story today is of his father and grandfather, in the late 1940s or early 50s, coming back from Emley with two tethered sheep in the back of their three-wheeler vehicle, a kind of truck with a front end rather like a motorbike. The sheep were tethered by three legs each for transport. They were heading for Andrassy's slaughterhouse on the Runtlings, Ossett, so decided to take a short cut, avoiding Horbury and heading up Storrs Hill. There's a sharp steep bend there.
The sheep had manoeuvred themselves to the back of the truck and when they came to the bend the front wheel started lifting off the ground. There was only one thing to do: Paul's dad and grandad leaned forwards out of the windows until they got on level ground again.

Richard Bell, richard@willowisland.co.uk