6.a.m. and the blackbird has been singing for some time already; not the mellow melodious phrases he'll have improvised by May but enough to make me aware that spring is now just weeks away.

Even by Morrisons' supermarket, opposite a MacDonalds', there's a dunnock singing it's bright, brittle trills from a small conifer, guarding his territory - a crescent of low, dense, thorny landscaping shrubs - against all comers.

On Westgate beck, alongside the busy road into town, one drake mallard sees off another pair and swims back to escort his mate, the brown female, who is dabbling around the outlet of Balne Beck.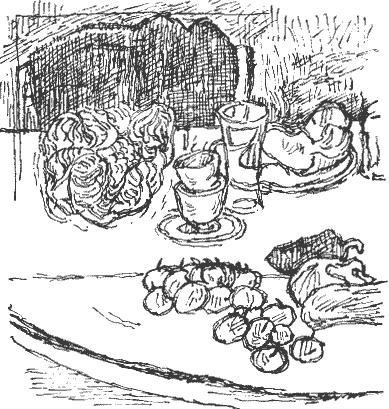 A Bowl of Cherries
Jack Smith's Still Life with a Bowl of Cherries, dated 1954-55, has more colour in it than you might at first think. It is muted, like an overcast autumn afternoon, as if an all-over light is coming through a skylight. Rationing and austerity don't seem too far away; this is a dour still life, not a flowery, fruitful concoction.
It's in an exhibition in Leeds Art Gallery of British painting from the 1950s; this was an example of the 'kitchen sink' school of painting, which started to look out of date in the more colourful days of the 1960s when British Pop Art, influenced by Andy Warhol, appeared.
No 'Lollipops' please; we're British
There's a nod to Cubism in the layout of the painting; Picasso was still a looming presence at the time. The perspective - almost an orthographic projection - gives the objects on the table a certain stand-offish character which seems appropriate when you think of the character of the British, or at least the English, of that time. Picasso's still life objects would be up to all sorts of tricks.
Of course, me being me, this everyday dourness has it's appeal. These days we're bombarded with glossy images, so it's good to step back into the muted world of the 1950s for a while
(it doesn't help that The Good Ship Lollipop is playing every ten minutes in the next gallery; I hate installations! Live music; yes. Tape loops that go round three times in the time it takes me to draw this; NO! - must remember to make a complaint to my friend who's a curator at Leeds! Stop bombarding us with the stuff, please).
After throwing that brickbat at Leeds Art Gallery I better hand them a small bouquet: if you ask nicely they'll let you borrow a folding stool so you can sit and draw in comfort (assuming what you want to draw isn't opposite one of the comfortable horse blanket sofas anyway).
I've just bought a new pen, a Rapidoliner. I was glad to spot it in the art shop, as they're no longer being made and I've never had the chance to draw with one. This one has a large nib, 0.7 mm, and the ink flows more freely than it does in a fibre tip pen so I find, when I start with the cauliflower, that the drawing turns out larger than I'd expected and I don't manage to include the bowl of cherries in the bottom right. I like the way Smith (b.1928) has slightly re-designed the shapes.
W.T.O.
The painting is large, about 4 or 5 feet square, oil on board and dated 1954-55. The label records that it was bought in 1991 from the Mayor Gallery in memory of a former trustee of Leeds City Art Gallery, W.T.Oliver. I remember W.T.O. because he was the Yorkshire Post art critic. I organised a small exhibition of local art in Horbury, when I was an art student in the late 1960s, and I was delighted when he mentioned, favourably, my wildlife sketchbooks in his write up of the show. That must have been the first time my sketchbooks were ever mentioned in the press.

Westgate to Leeds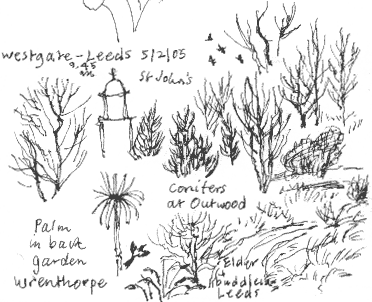 There isn't room to show you all the drawings I did on the outward and return journeys from Wakefield Westgate to Leeds - and you've seen that sort of things before - but here's the section of the outward journey as far as the outskirts of Leeds.
I reckon this is my favourite way into Leeds, it beats messing about in all the traffic, and, on a Saturday morning at least, the return fare is less than the cost of a coffee in Marks and Spencer's.
I just wish they'd reopen our local station so I didn't have the problem of getting to Dewsbury or Wakefield to get on a train but I'd be surprised if Horbury ever got its station back; Sandal and Outwood have got stations but there are overwhelming political and economic reasons preventing Horbury getting one.
It's bad news for the local traffic and for the environment.

Richard Bell, richard@willowisland.co.uk