| | | |
| --- | --- | --- |
| | Derwent pencil wrap | |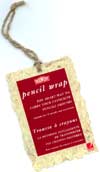 While browsing in Armitage's art shop where I bought the Botanical Painting book the other day, I ended up spending more than the voucher I'd brought with me: however have I managed for so long without a pencil wrap in my artbag?
I have a selection of 42 artists watercolour pencils which I bought years ago at the Derwent pencil factory in Keswick, Cumbria, but it isn't practical to carry them around in the tin. This wrap, also by Derwent, should be a better solution and don't you think that it's already got that rugged, well-travelled look so essential for travels with a sketchbook? Halfway between A Fistful of Dollars and the Dead Sea Scrolls. If Indiana Jones could ever find the time for pencil sketching, this is the wrap he would use.
And I liked the way it was packaged; simply rolled up in a small plastic bag instead of spread out in a big showy blister pack. I appreciated the way that the 'luggage label' is attached not with the usual nylon tie (which you have to go searching for a pair of scissors to remove) but with a loop of garden twine (which I can recycle for tying-in the tomatoes):
'Trousse à crayons

LA METHODE INTELLIGENT DE TRANSPORTER VOS CRAYONS PREFERES!'
Oui, c'est moi; l'artiste intelligent!
The only dilemma was whittling down my selection of crayons from 42 to 31.
Tip: you can fit twelve pencils in the small oblong tin in which Rotring Art Pens are sold.
I'm going to keep the tin of 12 in my small art bag, the roll of 31 in a larger bag.

Last Flight of the Rapidoliner

The drawing of the unrolled pencil wrap was made with my Rotring Rapidoliner with an 0.5 mm refill. What I like most about the Rapidoliner is the inky quality of the line. What I like least about it is the inkiness that you get when you're carrying it around.
I'm a member of Danny Gregory's Everyday Matters drawing journal forum (see link below). To give you an idea of what we discuss here's what Karen Winters from California (author and illustrator of the appropriately named Random Acts of Inkness, see link below) was saying the other day about getting the balance right in messages, bearing in mind that we've got 600 members, most of whom work on some kind of illustrated journal or weblog:
Maybe there's a middle ground, where the blog notification is a conversation starter ... like "my rapidoliner exploded on an airplane flight but I turned the mess into something artistic ..."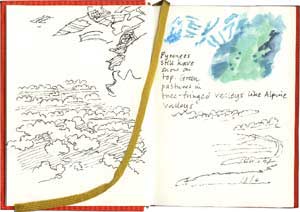 Fields in France, cumulus, a valley in the snow-capped Pyrenees and Cap Formentor, Mallorca, 5th April 2005
NOT drawn with a Rapidoliner! I bought this little orange sketchbook in Amsterdam last autumn.
I couldn't resist replying to that:
Sounds like a sure way to stop a conversation Karen but, yes, that happened to me too when we flew to Mallorca last month. The result wasn't artistic. Luckily, being a regular EM reader I guessed this might happen and I'd packed it in a separate plastic bag. It's still there, waiting for me to clean it up and give it another chance.
The great thing about the EM group though is that, as is often the case, another member of the group, Matt, was able to come up with a solution:
To help prevent exploding pens while traveling by air, I put them into an empty plastic soda bottle, and make sure the lid is screwed down tight before getting on the plane. The soda bottle acts as a sort of pressure chamber, which reduces the amount of pressure change experienced by the pens. Just don't open the bottle until you get back onto the ground!
Thank you Matt. Karen asked:
Oh I hope it didn't get ruined completely! You'll have to let us know if it survives, and what if anything you do to revive it. Does the inner cartridge burst or does it ooze out the tip? I don't know about these things ...
That spurred me on to deal with the Rapidoliner, or rather my two Rapidoliners: one, I was able to rescue, it has just seeped a bit through the nib, the other, which had been faulty even before the flight, appeared to have lost most of its ink through the tip but I was able to remove the cartridge and clean up the pen cap and body in soapy water, ready to install a new one.
Note: despite a campaign by members of the Everyday Matters group, Rotring have phased out the production of the Rapidoliner. Rumours are that it failed to get a certificate of airworthiness.
Pipblog

Anja Skoglund's Pipblog recently got off the ground (see link below). It's an illustrated journal '...about drawing and eating and Copenhagen' (sounds like my kind of weblog; I look forward to drawing and eating my way around Copenhagen sometime). Here's an extract from her April archives:

'At IKEA, we bought the world's best jam - at least, the world's best jam that isn't handmade - their raspberry/blueberry jam, which is called "Queen's jam" in Scandinavia. Unfortunately, the Swedish producers left out the apostrophe on the label... tee hee.

'The reason why this jam is so good is that the blueberries are wild, and that it's low in added sugar. Just what I love. If you want to be a true Norwegian, eat this jam on pancakes. It should be just blueberries, but this is close enough!
'Then, on the Sunday, we had the proper Swedish IKEA meal at home - Swedish meatballs, cream gravy, mashed potatoes and carrots and peas. With lingonberry jam and mustard, of course.'

When Barbara and I got off the plane in Mallorca the first place we passed on the coach leaving Palma airport was the local Ikea store but we bought this jar of Queen's Jam on our visit to the Birstall Ikea last week. It is as good as Anja says; very like the homemade jam that Barbara and her mum make.

I've since learnt that lingonberry is what we would call cowberry, again a wild berry. Cowberry jam doesn't have the same ring to it though, does it? The reason Barbara and I were calling at Ikea was to stock up on anchovies; they're plump little fish in brine, rather than the sharp tasting strips that are sold as anchovies in most English supermarkets.


Swedish Raspberry and Blueberry
Extra Jam Queens Blend
Hafi

Related Links
Random Acts of Inkness with Karen Winters
Everyday Matters with Danny Gregory (includes link to the Everyday Matters forum)
Richard Bell, richard@willowisland.co.uk