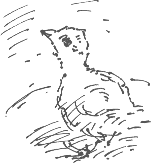 'I feel really awful about this, but I have to be cruel to be kind,' says Julie when I see her at the canal bridge, walking back from her smallholding by the river. She opens her bag and I wonder what she's going to show me; it's a fluffy yellowish day old chick, sitting in the empty feed bucket.
'This one's hatched first and the hen will have to feed it so I'll have to take it away or she'll abandon the rest of the clutch.'
Just as I'm wondering how she's going to dispose of this chick (a light lunch?), Julie explains that she's taking it back to a bantam she keeps at home which has just one chick, so that will act as a foster parent.
At the Castle Gate

More animated doodling. I don't think stencils really suit me; I'll have to try something drawn freehand, now I've got myself back into the process.

Richard Bell, richard@willowisland.co.uk