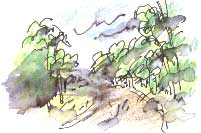 We haven't walked through this birch copse between the river and railway at Horbury Bridge for years. It reminds me of a wood next to our favourite hotel in the Lake District but, when I was a schoolboy, this was a railway sidings for the local colliery at Hartley Bank, which closed in the 1970s. The grassy edges of the track are good for wild flowers; I'm surprised to see centaury growing here, so close to Horbury.
According to the Roman naturalist Pliny the Elder, centaury is named in honour of the centaur (half man, half horse) Chiron who used this bitter herb to heal a wound inflicted on him by the Hydra, the nine-headed serpent of Greek myth. The flowers weren't open today, probably because it started off so dull.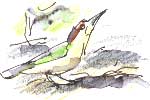 A green woodpecker flies down to the track ahead of us and appears to be drinking. We watch it for a couple of minutes until it flies off. No wonder it took so many beakfuls; it was drinking from a shallow muddy scrape. Do they prefer muddy water, with there fondness for ants in their diets? Is muddy water a cure for formic acid indigestion?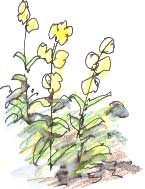 I've never seen so many evening primrose plants growing together as there are around the former coal yard at the entrance to Engine Lane.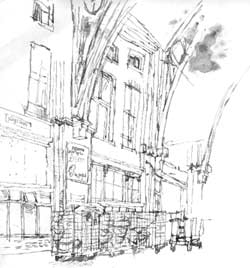 Barbara suggested that, after the news of the bombings in London this morning, which reduced me to a gloomy, exasperated silence, that we ought to get out, so we've taken a roundabout route to the animal feed suppliers, to stock up on niger and sunflower seed.
Kings Cross (left, from a 1974 sketchbook) and the Piccadilly Line via Russell Square, where two of the bombs were detonated, one above ground, one below, were on my route into the Royal College at the beginning of each term, and my escape route in the opposite direction, back to the natural world out of London. For me Russell Square means the back door to the British Museum; the Noggin the Nog Viking chessmen from the Shetlands, carved in walrus ivory; the Sutton Hoo helmet; the Lindisfarne Gospels and Charles Dodgson's original illustrated manuscript of Alice's Adventures Underground (which has probably gone to the new British Library today). It meant something to see such objects in real life instead of on the page or on television.
I'm sorry that the major museum we have in Leeds is the Royal Armouries, dedicated to telling the story of how people devised ways of killing each other down the ages and throughout the world.
London has a long history of coping with bombs and I remember the IRA ran a campaign when I was a student which involved putting bombs in pillar boxes around the city.

Richard Bell, richard@willowisland.co.uk