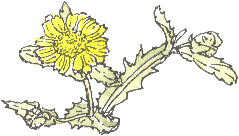 The meadow area is at last begining to look like a meadow. This corn marigold, Chrysanthemum segetum, is one of the new flowers that have come up from the wild flower seed mixes I sowed there.
'A troublesome annual weed in cornfields,' writes Edward Step in the first edition of Wayside and Woodland Blossoms, in 1895, 'but as handsome as it is mischievous.'
By the time the 1963 (and final?) edition of the book was printed R. A. Blakelock of the herbarium at Kew, had revised this to; 'A once troublesome annual weed in cornfields, as handsome as it was mischevious, but far less common now owing to modern methods of cultivation.'
Red poppy and what I think is candytuft are also also doing well in my patch of meadow and a single scabious has appeared.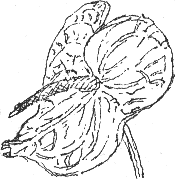 It's ironic that during the preparation of my garden sketchbook I'm so busy sitting at my computer writing about what I've drawn in the garden that I haven't got time to go out there and draw it as it is now.
I draw the light green flower on our table - I guess it's the spadix of an arum - during our lunch break at yet another new café, the Library Café, on the top floor of the Redbrick Mill, Batley. There's a range of art and design books which you can browse, and buy, over coffee.

Richard Bell, richard@willowisland.co.uk