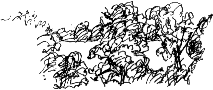 Either the late nights working on the book have taken their toll on us or this warm muggy weather is sapping our energy as we walk, or both, but the walk up from the Cascade Bridge at Bretton Park up to High Hoyland seems more of an effort than usual.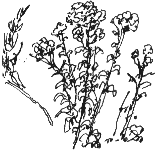 This is the first time we've had chance to do our favourite summer walk to Cannon Hall, returning on the special bus service they run during the holidays.
You can tell how exhausted I was because, although we had lunch at the Sunflower Café in the garden centre (the cajun chicken wrap with a fresh salad was perfect) and a cup of tea and a Belgian waffle at the café by the car park (we'd moved outside because a small child had come into the Sunflower Café with his grandparents, holding a toy plane that made a continuous loud piercing sound like a dentist's drill having paroxysms) these two small sketches, of the field across the lake and of common ragwort on a grass verge, were all I drew in my sketchbook.

Richard Bell, richard@willowisland.co.uk