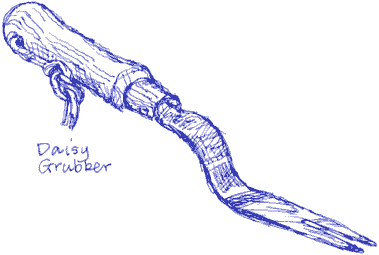 While our lawn, sown in the spring, is now lush and green, it did take some time to get established and for a while it looked as if there would be more thistles than grass in places. There are still plenty of rosettes of weeds dotted around the turf.
This tool, which I spotted in the Cannon Hall Garden Centre, is designed to neatly lift out weeds, along with an inch or two of their taproots, from turf. It's beautifully made, with a wooden handle, a stout cedar-green enamelled blade, brass ferrule and a useful leather tie that gives it a bit of extra character.

Barbara and her mum were busy stocking up on birthday cards, some of which were over £2. This daisy grubber was £1.99, so don't you be expecting a birthday card from me in future; next year everyone will get a daisy grubber with greeting attached to the handle. Far more useful, and more likely to bring a smile to the face of anyone with weeds in the lawn.
I'm not aiming to totally eradicate the weeds - I like to see patches of daisies and bees visiting the dandelions - but now I'll be able to give the grass a bit more of a chance.
Can't tell you who makes them, as there's no maker's name on the handle.

Richard Bell, richard@willowisland.co.uk