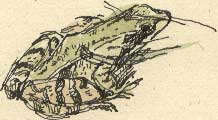 Another day, another forty 3ft x 2ft paving slabs to be lifted, levelled and re-layed.
Under the weed suppression fabric by the entrance to the drive at the edge of the heather bed, three frogs are huddling together. I get a bucket and with some gentle but firm persuasion get them out of their cavity, where they're pushing themselves down against the damp earth to make it as difficult as possible for me to pick them up. One almost escapes through a slit in the fabric but I ease him back out again.

I take the bucket through the house and tip it slowly sideways into the pond. The three of them swim out as soon as they make contact with the water and go off to hide down amongst the water weeds. I guess that I've saved them a journey: they would probably have been heading here in the next few weeks for the spring spawning; the highlight of the frog year.
Snails and Screws

On the lawn side of the driveway, where the sand had eroded away to leave a few cavities, three garden snails have hunkered down on the reverse side of the slab. They've sealed themselves onto the slab around the edge of their shells so I've no alternative but to break them off with a sharp blow and relocate them to the bottom of the hedge.

While all the slabs are up, Paul and I dig out the dandelions which have proved impossible to eradicate in the cracks that had opened up between the slabs. One root looks like a corkscrew; it appears that a dozen dandelion seedlings have sprouted there together and their roots have twisted around each other as they grew.
There's no way that you could have got that out without removing the paving slabs first.
'It's a left-hand thread too!' says Paul.

Richard Bell, richard@willowisland.co.uk