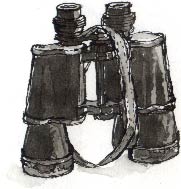 These Russian-made Cosmo 10 x 50, 5° field, binoculars date from the 1960s. They're still not too bad optically but they're a bit heavy for me to carry around comfortably for any length of time so I keep them on the end of the bookshelf, ready to grab in a moment if something shows up in the garden, like the sparrowhawk that perched on the greenhouse during a snow shower this morning.
The wettish snow continued for most of the day and when I had a spare 20 minutes for a drawing the studio window was too streaky for me to see out so instead I picked up the binoculars and put them on a cardboard box on the desk to bring them nearer to my eye level.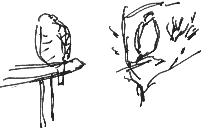 I started with a line drawing using a dip pen and Chinese ink, then added the washes. To make the binoculars look as black as they appeared in the dull afternoon light I gave the darker areas a second wash of the darkest premixed wash that I use.
In the late afternoon when it had stopped snowing we walked out along the road and found that the raw, damp cold hadn't put the birds off; one or two of them were singing. The snow hadn't settled much on the ground but it was still sprinkled on evergreen garden shrubs, so that - as Barbara commented - it looked like white blossom.

Richard Bell, richard@willowisland.co.uk