I need to throw myself into my Peak District book . . . but (there's always a 'but'!) there have been some heavy showers today, I would probably have got drenched out in the hills. If I'm to make progress, I can't leave drawing until the perfect day; Monday and Tuesday are looking good so I'll get off then.

We've been doing various things that needed doing around the house, garden and so on. We did manage to stop for a cup of coffee in a garden centre this morning which gave us a bit of a break and I even managed a quick sketch of the wooded slopes beyond Flockton when Barbara popped into the farm shop at Emley. It all needs doing and I can't really set off to the Peak District with all these pretty essential errands still hanging in the air but I'm wary of getting into the situation that I was in before we went to Texas of spending a whole six weeks promising myself that as soon as I'd 'caught up with things' I'd get out there.
PagePlus 11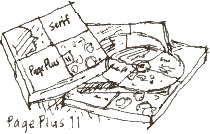 I had a leaflet in the post about a piece of desktop publishing software today. Phoning up for more information and then discussing it with Barbara I've decided to go for it. The two programs I use at the moment, Microsoft Publisher and Macromedia (now part of Adobe) FreeHand, have some really annoying drawbacks when it comes to printing (such a Microsoft's insistance on adding gunge to my artwork, right) so I'm hoping the new version of Serif PagePlus which I've ordered will combine the best features of the others and print properly.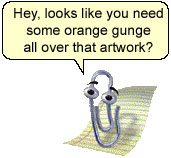 I'm just in the mood to enjoy learning a new program. This one comes with tutorial disc and a 100 page colour Resource Guide so it's something I could follow through and try and learn properly. I want to put roots down into my work again. Travelling is fine but I need to centre myself again now.

Richard Bell, richard@willowisland.co.uk