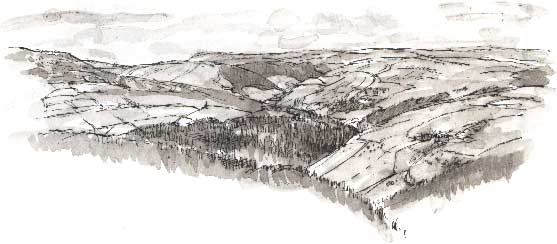 A gorgeous day, warm enough to have my sandwiches at the top of Win Hill with just a gentle breeze. I hear my first cuckoo. Not surprising they should migrate to these moors as there are a lot of meadow pipits around (a host species for the cuckoo).
As I settle down in a cleft on the north side of the summit crag to draw the view of the Snake Pass, the shadow of a towsled head appears over my sketchbook and I become aware of a gentle movement just behind me. Guessing that some hiker is taking an interest in my work, I turned and find myself looking right into the eyes of a black-faced sheep.

I say hello, expecting the sheep to baa in surprise and alarm and go running off but she just takes a cursary glance at my drawing and goes on nibbling. She soon turns around and I find myself eye to udder with her!
I feel so lucky to have countryside like this just an hour's drive (and 30 minutes climb) from home. The moorlands spreading out in front of me remind me of the extensive views you get in the Scottish border country. You'd hardly think that you could fit so much open space between Sheffield and Manchester.

Richard Bell, richard@willowisland.co.uk