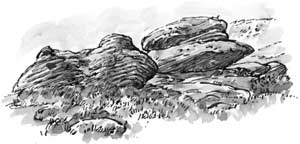 Another good day for drawing and I'm back at Carl Wark hill fort. To cover up from the sun I'm wearing a hat with a brim, I've got my Buff (headgear thing) covering my neck as a lightweight scarf, I've dabbed sun screen on my nose and face and I wearing a loose long-sleeved shirt to give myself some protection from the sun. This is such as novelty after dressing to keep the cold out for so long!
After drawing these gritstone boulders at the centre of the little plateau I walk over to them, to pace out their length. The rock on the left, which looks like a reclining Henry Moore figure, is 12 feet long and about 4 feet high.
I pick up a broken piece of rock lying next to it as a hand specimen of what I've just been drawing. I realise after drawing it that there's something unusual about it; that striated surface on one side of it. I recover the other pieces and put it back together. It's about 5 or 6 inches square. Just the size to pick up in your hand.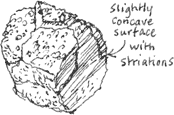 Could this have been a quern stone? Was it used for grinding corn on one of the gritstone boulders, when this was an Iron Age fort, 2,000 years ago?
Or is it a fragment from a slickenslide, where the rock has slid along a fault plane under pressure.
I've since shown the specimen to Alison Quarterman, a geologist at Greenhead College, Huddersfield. She says that it's unlikely to be a fault plane because quartz crystals are soon re-melted by the friction generated in a fault and there's no sign of this here.
So it's quern stone?
Well, there is one other possibility; rock fragments in glaciers often carry striations like this, where they were rubbed along the bedrock under the ice. I shall have to ask an archaeologist to take a look at it.
Any archaeologists out there please?

Richard Bell, richard@willowisland.co.uk