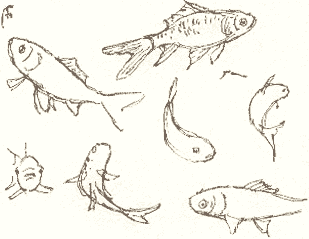 My run of days in the Peak District comes to an end today because yesterday, as I was biting into a muesli bar, I broke filling.
I phone up this morning and after 90 minutes I'm back here, feeling a bit numb in the jaw, with the filling pinned and repaired. And there was just time to draw the goldfish as I waited for my treatment.
Isn't the National Health Service marvellous!

Richard Bell, richard@willowisland.co.uk