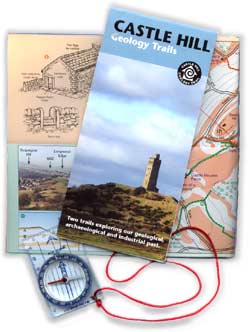 When we arrive for the launch of the Castle Hill Trail leaflet the hillside is isolated in cloud. We're meeting in the tower which, as we walk to it, seems like a lighthouse at the end of a promontory, on some misty headland. Are we really so near to the centre of Huddersfield? This could be Bodmin Moor.

Climbing the stairs in the tower is like being in a lighthouse too. The photographer from the Huddersfield Examiner has us standing around the circular guide to the panoramic view from the tower.
Except today there's nothing to see but cloud.
You can buy a copy (£1.50) of the Castle Hill Trail from any tourist information centre in Huddersfield, or from Ottakar's in Huddersfield.
Or in difficulty e-mail me.
And hope you have better weather to walk the trails!

Richard Bell, richard@willowisland.co.uk